We purchase auto parts mainly for Autoliv (Group/Japan), one of the world's largest
automotive safety suppliers, and provide the parts to Autoliv plants all over the world.
The parts are used to compose seat-belts, airbags and steerings etc.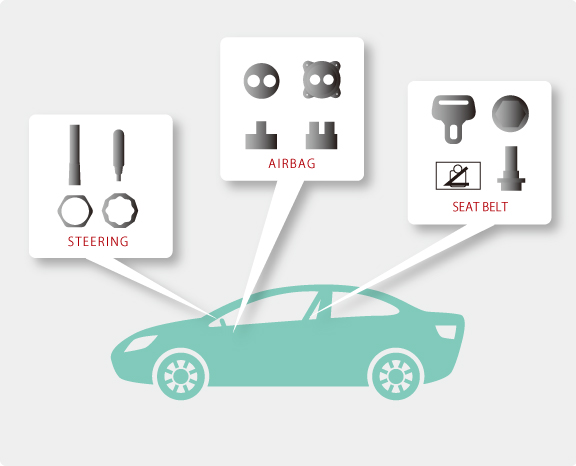 Our objective is to build Autoliv's and our suppliers' business successes.
To accomplish these, we place importance on the following 5 things. 
We're always flexible and get greater understanding of partners' perspectives. 
At the same time, we give emphasis to being punctual and deliver the auto parts to the plants just in time.
We make a variety of fresh proposals and will create new business opportunities
for both domestic and overseas suppliers through our sales efforts.
We put the finest focus on building trusted partnerships.
One Stop Service
Our strongest feature comes from One Stop Service.
We combine trading function and our firm logistic network, and are responsible for
all the way from purchasing to the delivery to local Autoliv plants.
We supply automotive parts around the world Just in Time by making full use of this service.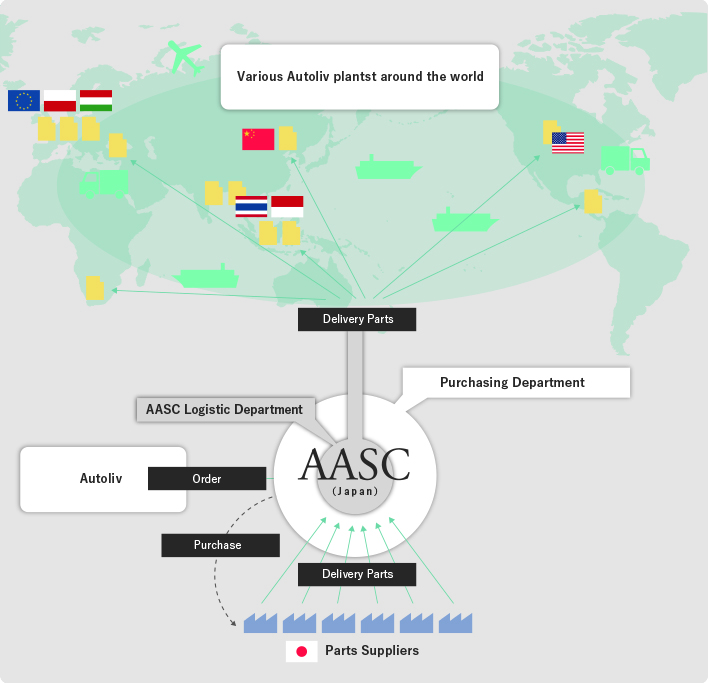 As of 2018 Results
---
280 Annual shipments (ship, air)
---
12 overseas destinations, 16 plants (America, Mexico, China, Thailand, Malaysia, Indonesia, India, Turkey, Hungary, Poland, Roumania, South-Africa)
---
9 Domestic transaction parts manufacturers
---
50 items handled (Screws, bolts, rivets, spacers, and collars etc. for seatbelts and airbags)
---
Autoliv Group/Autoliv Japan
We provide consultation on purchasing, including overseas transacctions and transportation.

Many things need to be determined before trading starrts and this is time consuming. I am not keen on sending emails in English.

I want to accept orders, but the content of the orders is not displayed and the quantity is not determined, so I cannot set up a production schedule.

I am unsure what to do when there are quality claims or a defect item is found.

I do not know what packaging to use when exporting overseas. I want to send in their original cartons, but I am not sure whether pallet packaging is required.

I have orders for small amounts frequently from multiple foreign destinations, and I want to process these in a short time.
Feel free to consult with us.
+81-3-3568-3210
Support available: 9AM-6PM (JST) [excluding Saturdays, Sundays, and National Holidays]
Contact Us

Please discuss with us any contents not described in the service list.
We will explain carefully to any customers whether they are with well-experiences of global business or even with none.